Little Boy Lost, Old Man Found by Warren Wright
23 May 2018, Posted by Memoir
in
Art: Courtesy of Thurman J. Williams of Our Cotter, Ar
LITTLE BOY LOST, OLD MAN FOUND
I was born March 21st, 1942, in Mountain Home, Arkansas, the first child of Ernie Edward Wright and Alice Erlene Collins, who was always called Aline by all who knew her.  My full name was Warren James Wright.  Usually I was called Warren, but if I was in trouble it would be, "Warren James!"
Mountain Home is located in north central Arkansas on an Ozark plateau.  The U.S. Census in 1940 showed the population was 927.  By 1950 it was 2,217 due to the influx of government workers to build two dams forming Bull Shoals Lake and Norfork Lake.  It was then, and is now—December 17, 2017— the county seat of Baxter County.
The small business district was on the square, with the historic courthouse in the center of the square.  There were two theaters, two drug stores, a bank, and several other commercial businesses on the square.  Morgan's Drug Store had the best root beer floats.
Sometimes I would walk from our house to a blacksmith shop one block away, near the square, and watch red-hot horseshoes being pounded into shape to shod waiting horses.
I went to the movies every Saturday afternoon.  There were serials—Superman, Batman, Captain Video, my favorites—and each  segment would end at a perilous moment in the action, and you had to go to the movie the next Saturday to see what was going to happen.  I was partial to western movies— Gene Autry, Hop-a-Long Cassidy, the Lone Ranger and Tonto, Lash Larue, Tom Mix, and Roy Rogers.  It cost 25 cents to go to the movies or to get a haircut from Opie Hargraves, who had one leg shorter than the other.
When the Baxter Theater opened just off the square, the night of their first movie showing they had two large spot lights which caused quite a stir. Their beams scanning the clear night sky were visible from our house.  I thought this must be what it was like when there is a grand opening in Hollywood.
As part of the opening celebration of the first western matinee kids could have their pictures taken with Smiley Burnett, who was the comedic sidekick in the Gene Autry westerns.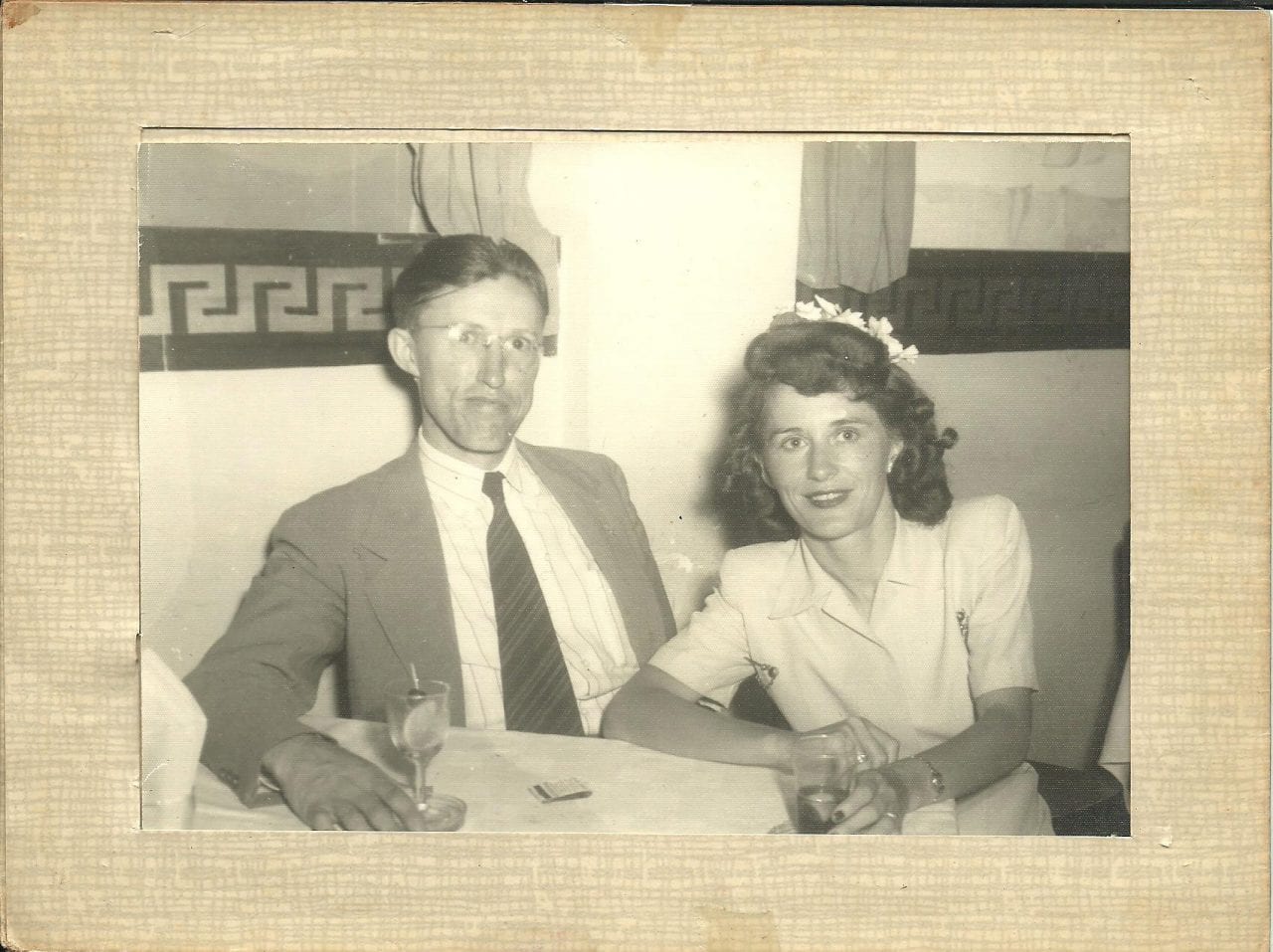 Judge Ernie & Aline Wright, parents of Warren & C.D. Wright
When I entered the world Dad was struggling to build a law practice, and Mom was his stenographic secretary.  I was cared for by a succession of live-in housekeepers.  One, Alice Painter, took care of me and loved me like I was her only child.
Family incomes were modest, except for the government workers building Bull Shoals and Norfork dams, and so farmers or poor folks would compensate Dad for his services with a smoked ham, sausage,  produce, or whatever or whatever they could afford to pay him.  He would always mark their accounts paid in full.
After the dams were built Mountain Home began to draw tourists and retirees so his practice began to prosper.
I have an early picture of Mom and Dad.  Apparently they are at some club, I think in New Orleans.   They are having a couple drinks and he is dressed in a suit and tie, peering through wire rim glasses, a hint of a smile on his face.  Mom is in a 40s era white dress with shoulder pads, flowers in her wavy brown hair.  She looks glamorous to me.  Movie star glamorous.  It's no wonder he was smitten with her.
We lived in a modest wood-framed, two bedroom, one bath home on the edge of the government village, which was almost built in a circle around a field where I would play sandlot football and baseball with the neighborhood kids.  I remember sometimes laying in the middle of that field on warm summer nights, gazing at the stars … wondering what was to become of me.  I would listen to tree frogs, crickets, and other night sounds until Mom or Dad called me home.
It was a short walk to Mitchell's Grocery where Dad would charge groceries, then pay his bill at the end of the month.
I was too young to write or cipher, but I was observant.  I watched Dad load up with groceries, head for the door without paying, and just telling Mr. Mitchell to charge it.
One day I took a notion and went to the store, loaded up a sack of candy, walked out the door telling Mr. Mitchell to charge it.  This went on for awhile, until Dad got his bill at the end of the month.  He was furious.  I got a whipping which made a temporary impression.
A few days passed and I started craving my usual haul, so I went to the store, loaded up with assorted sweets and started out the door telling Mr. Mitchell to charge it.
He called me back in and said, "Now Warren, your Daddy told me not to let you charge anymore candy unless you had a written note from him."  I stomped out the door, went home, and wasted no time scribbling several squiggly lines on a piece of paper.  Returning to the store I threw my note on the counter where Mr. Mitchell was.  He picked up the note, held it up for scrutiny, turning it one way, then another.  Finally he said, "What is this supposed to say."  I responded, "You know what it says."  He was amused to the point where he told me he would give me a small sack of candy this one time

I was a poor student in elementary school, prone to day dreaming, and more interested in catching
perch or skinny dipping in the creek near our house, than in anything pertaining to school studies.  I was also fond of recess, when I would have  an opportunity to flirt with Donnie Dilbeck, who wore Blue Waltz Perfume, which would get me all swimmy headed when I caught a whiff of it.
I would later become infatuated with Carolyn Carroll.  I considered her to be my first girlfriend and gave her a promise ring to prove my earnest intentions.  This was about the sixth grade.
Another girl who would be a secret love was Sue Roller.  She was blond headed and pretty.  But she was also several grades ahead of me so I never directly made my feelings of attraction known to her.  I
did write a note that said, "I love you Sue," and left it in her yard, unsigned.  I doubt that she ever found it.
……
Summer days I might roam the town, wherever whimsy took me in those long past, innocent and safe times.
One day about supper time I showed up at an elderly neighbor's house to visit a lady I called Grandma Byrd.  They were just sitting down to eat, and I pulled up a chair.  Grandma Byrd said, "Warren did your folks say you could eat with us this evening?"  I surveyed the bounty on the table and responded, "You know, they said if you were having fried chicken with gravy, collard greens, pinto beans, and cornbread, it would be okay."  They piled my plate high.
…..
Cotter is a sweet little mountain town in north central Arkansas, located on a great bend of the crystalline White River which flows out of Bull Shoals Dam, nine miles upstream.  It is eleven miles west of Mountain Home.
From the bluff across the river, Cotter looks like it is on a peninsula.
I spent the summers of my childhood in the 1940s at Bapo and Mamo Collins home, my maternal grandparents.  Across the street were my Uncle Sneed Noe Collins, Aunt Mil, and cousins Larry, Terry, and Pam.  Aunt Crickett, Mamo's sister, also lived in Cotter.  Her real name was Gladys Chandler, but everybody called her Crickett.  The reason eludes me and there is no one left to tell me why.
Most of the Collins men were railroaders.  Years later my cousin, Terry, who became a railroader, was once going across the Cotter bridge in a caboose.  He got woozy, stepped out the back door for a breath of fresh air and fell headlong into the frigid waters below, forever earning the moniker "Splash Collins."
Cotter was a bustling railroad town, with puffing steam engines pulling freight and passenger cars, stopping briefly at the depot at all hours of the day and night.  You could go anywhere in the country then, as train travel was the most utilized form of public transportation, and many roads in the Ozarks were unpaved.
So many memories of Cotter.  Mamo spoiled me rotten, and made the best chocolate pies I ever tasted.  Bapo would take me to Cotter basketball games.  The gym was just a block down the hill from
their house.  The flagstone gym had a tin roof, and worn, built-in wooden bleachers  on one side, a stage on the other..  The Cotter school burned down years ago, but the gym still stands as a sturdy visage of a bygone era.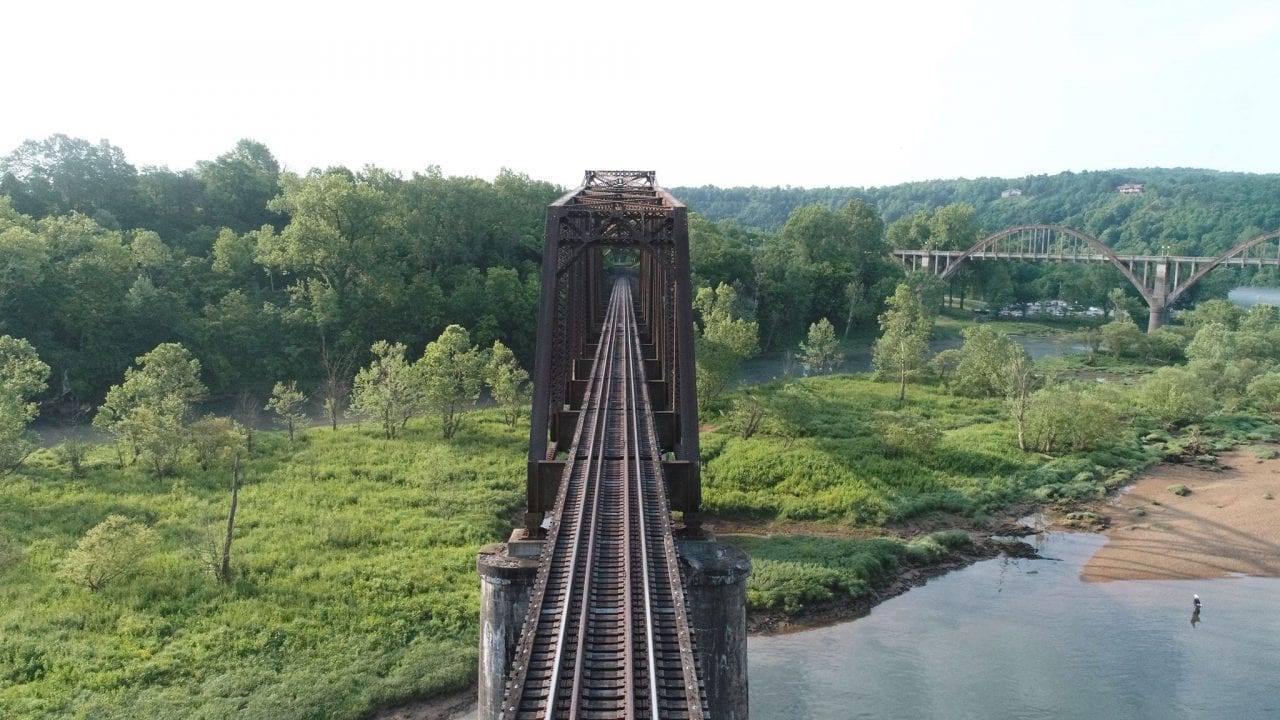 Cotter proclaims itself, "The Trout Capital of the World."  Bapo and I would go fishing on the river and catch a mess of trout.   We also set out trot lines and fished on the lakes.  Some of those catfish we caught on the trot lines were so big I was afraid to pull them in the boat with us.
I remember many nights sitting at the kitchen table, listening to mournful train whistles in the distance.  Bapo could tell what train was coming in by the sound of the whistle.  "That's the Red Ball," he would say.  The freight trains would have a big red ball painted on the side of the boxcars with lettering, " Missouri Pacific Railroad", in the middle.
Bapo was a conductor on the passenger trains, until they played out as people turned to automobiles for transportation.  He ended his career as a brakeman on a caboose trailing the freight cars.  He said at night going to Newport, a frequent run, rural folks would switch their back porch lights on and off as they passed by.  A friendly greeting that brought him some comfort.
On nights when Mamo and I would take Bapo to the depot, we would pass hobo fires on the side of the river bank.  The hoboes would hop freight trains to transverse the country looking for work, or just another camp.  Sometimes one of them would come to our back door and ask for something to eat.  Mamo would fix the hobo a sack lunch and he would be on his way to parts unknown.
The passenger trains no longer pull through Cotter going to places I thought I would never see.  The freight trains no longer have cabooses.  And the main street in Cotter is now lined by bordered up store-fronts.
Memories beget memories.
When Cotter was a thriving community my Aunt Crickett was the telephone operator of an old plug-in switchboard.  One of my favorite things was helping her plug-in calls.  Sometimes we would listen in on calls to catch up on the latest gossip, but we never spread any of it.  In making phone calls, most people didn't give numbers, they just gave names.  "Crickett, this is Ruth, let me speak to Ethel."
The phone company was located in a white house near main street.  A siren was attached to the house.  Whenever there was a fire she would pull a switch, the siren would go off, and the volunteer
firemen would start calling in to find out where to respond.  A few minutes after all the firemen had called in, Velma Criggler would call in and say, "Crickett, where was the fire?"
Wednesday nights we went to prayer meetings at the First Baptist Church, in walking distance.  Of course there was Sunday school, then the Sunday service.   Brother Finn would give stem-winding sermons, building in intensity, with visions of hellfire and brimstone graphically described for those who
fell by the wayside.  By the end of his sermon he would be furiously bellowing with emotion , face florid, veins bulging on his temples   It seemed to me he was trying to scare people into heaven.  It just gave me nightmares.
At the close of his sermon there would always be the invitation.  He would stand in front of the pews , waiting for sinners to come forward and repent.  It was a small congregation, but he would stand there
long enough for three or four to come forward and be forgiven.  No one ever talked about it but I think they had worked it out so that they would take turns coming forward each Sunday.  If the number of times you were saved counts for anything those folks were glory bound.
…..
Bapo was forever smoking his pipe and trailing tobacco crumbs wherever he went in the house.  Mamo had had cataract surgeries—-these were the days before lens implants—and she wore glasses that appeared to have coke bottle lenses.  But her vision was keen with them and she could spot a tobacco crumb from twenty paces.  She would freeze like a pointer dog.
"Sneed!  Quit scattering crumbs!"His response was mute, but when she turned her attention to something else at the kitchen table, he winked at me.
After Bapo died we were making one of our regular visits to his grave site.  She noticed some leaves and debris on his flat grave marker and swept it clean with her cane saying.  "Oh, Sneed."  Still fussing at him.
---
About the author:
Warren Wright was born in Mountain Home, Arkansas, on an Ozark plateau. He is the son of the late Judge Ernie Wright and Aline Wright, his dad's court reporter. He is the brother of the acclaimed poet, C.D. Wright, who died January 12th, 2016.  He is a novice writer, with degrees from the University of Arkansas, Florida State University, and Georgia State University. He was an intelligence officer in the Navy during the Vietnam War. Wright was a founding member of the Harrison Community Task Force on Race Relations. He is married to Linda Wright, and is a retired mental health therapist, and senior rehabilitation counselor, residing in Fayetteville, Arkansas.
Art: Courtesy of Thurman J. Williams of Our Cotter, Ar