Tenure by Heikki Huotari
27 Mar 2018, Posted by Poetry
in
Art: Karen Hill, @karenhill_images
TENURE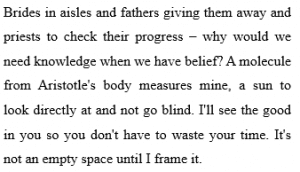 ---
About the Author: 
Heikki Huotari is a retired professor of mathematics. In a past century, he attended a one-room country school and spent summers on a forest-fire lookout tower. His poems appear in numerous journals, recently in The Journal and The Penn Review, he's the winner of the 2016 Gambling the Aisle chapbook contest. Forthcoming books will be published by Lynx House, Willow Springs and After The Pause.
Art: by Karen Hill, @karenhill_images
In the artist's words:
I am currently living in the county of Dorset, UK, raising my twin daughters. I'm an emerging photographer / photo-artist using digital photography with a leaning towards the abstract. With an insatiable wanderlust I am deeply influenced by travel, nature, the outdoors and the sea and this is reflected in much of my work in which I have drawn upon my experiences, knowledge and feelings gained in such environments. A fan of deserted beaches, remote environments, cats and chocolate in any order.