Leonard's Flat by Steven Mayoff
03 Jan 2018, Posted by Poetry
in
Art: Dimension by Fabrice Poussin
LEONARD'S FLAT
"You've got to accept the flat surface. Not try to pretend it's not there."  David Hockney
The flat like a gallery with all
your artwork wall to wall, I wandered
through it as if through
a private exhibition.
To me you have always
been Leonard, although
you preferred Len
or Lenny. My private Leonardo,
you were the uncle who took
to brush as I later took
to pen. The paintings now
long since taken down
and stored away, the flat rented
to strangers to pay for the care
facility where you now
live. Would you still
remember me to my face or have I
flattened out with no frame
of reference? Has your world
shrunk to a pair of eyes
looking inward? Through
hallway to living room to
studio to bedroom I keep
getting lost from looking too
hard at figures on their
surfaces, following strokes
and smudges, delineations of life.
Your life or mine?
It doesn't matter as I take the tour
one more time, to remind myself
that perspectives only flatter
the senses, while surfaces
awaken what has been lost.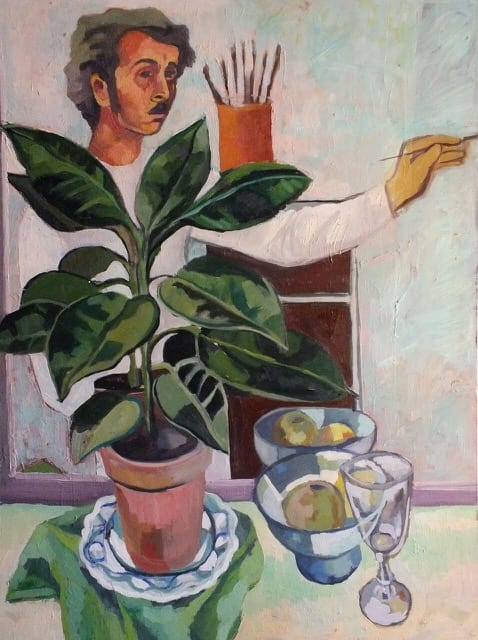 Image by Len Fligel
---
About the author:
Steven Mayoff was born and raised in Montreal, later on lived in Toronto, and moved to the bucolic splendor of Prince Edward Island, Canada in 2001. His fiction and poetry have appeared in literary journals across Canada and the U.S., as well as in Ireland, Algeria, France, Wales, England and Croatia. He has written two books of fiction: the story collection Fatted Calf Blues (Turnstone Press, 2009) and the novel Our Lady Of Steerage (Bunim & Bannigan, 2015). Upcoming is poetry collection Swinging Between Water And Stone, to be published by Guernica Editions in 2019.
Art: Dimension by Fabrice Poussin
In the artist's words:
Fabrice Poussin teaches French and English at Shorter University. Author of novels and poetry, his work has appeared in Kestrel, Symposium, The Chimes, and dozens of other magazines. His photography has been published in The Front Porch Review, the San Pedro River Review and more than 300 other publications.
Fabrice Poussin is advisor for The Chimes, the Shorter University award winning poetry and arts publication. My writing and photography have been published in print, including Kestrel, Symposium, La Pensee Universelle, Paris, and more than 300 other art and literature magazines in the United States and abroad.