Art: Foam by Çağrı Yılmaz, @resifdesign
BLUE COMING
Thylias Moss Poetry is connected to the body, part of my fingertips, just as blue as anything that ever was or will be blue– –blue that dye aspires to, true blue denied to any sapphire, Logan sapphire included, even if she wears some on thsoe blue fingers, blue spread,s consumes her as if she hatched from an Araucana egg. SHE IS BLUE, fingers, bluest hands ever, shoulders, breasts, every nook and cranny blue, big bad wolf says: how blue you are!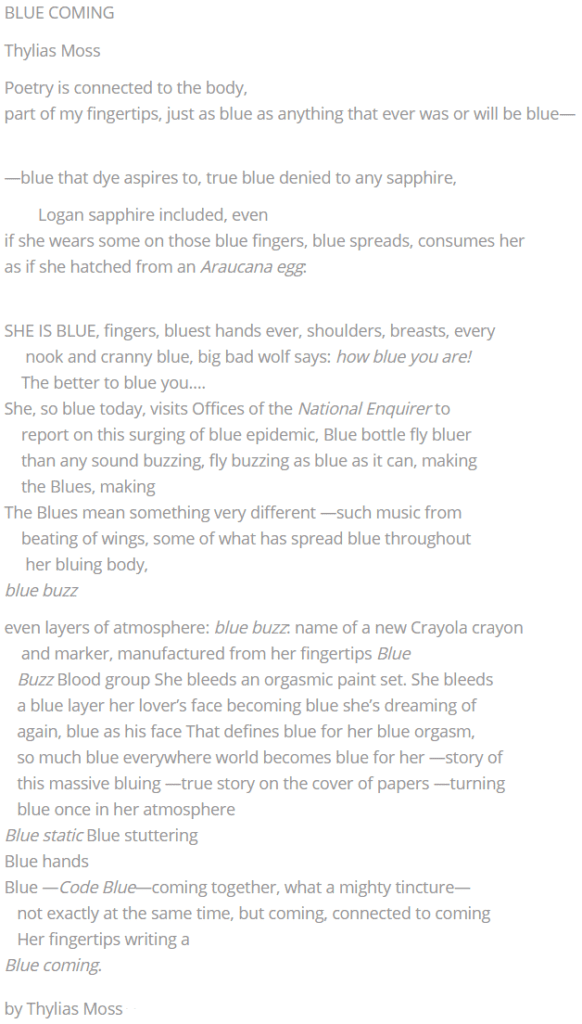 ---
About the author: 
Thylias Moss, a self-employed multi-racial "maker" at Thylias Moss Writing LLC, is also Professor Emerita in the Departments of English and Art & Design at the University of Michigan. Author of 13 published books, and recipient of numerous awards and honors, among them a MacArthur Fellowship, and a Guggenheim Fellowship, her 11th book, a collection of New & Selected Poetry, "Wannabe Hoochie Mama Gallery of Realities' Red Dress Code" (from Persea Books, October 2016) as part of Limited Fork Theory, an approach to making and thinking developed in order to assist co-makers and co-learners to become more collaborative in thinking and being. All about how things interact across all boundaries, and encouragement of interaction that becomes more meaningful over time; all have collaborators. Nothing makes alone, and everything makes; there is nothing that exists that does not make stuff in some form, which is also open: any form that becomes possible; invent whenever necessary. "Making" is not static, is evidence of life, as is book #12, collaborations, with Thomas Higginson, a collection of poems, Aneurysm of the Firmament, 2016 and a romance novel, New Kiss Horizon 2016, romance novel about Vashti Astapad Warren and Thomas Robert Higginson. Follow the lives of these characters beyond the book in Vashti's Blog. She has also completed an as yet unpublished collection of prose poams: "LFMK (Looking for my Killer)" –an act of public service, currently being read by a potential publisher.
http://www.4orkology.com
http://www.midhudsontaffy.com
http://www.moxiesupper.com
http://www.lex97.com
http://www.thyliasmoss-writer.com
---
Art: Foam by photographer Çağrı Yılmaz, Istanbul, @resifdesign.